Aloha Cottage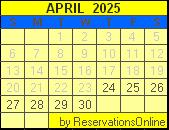 Click here for our photo gallery!
Aloha indeed! All that is missing is the luau.
Enjoy a tropical escape in the Hocking Hills of Ohio. Our Aloha cottage will make you feel like you have stepped into a tropical paradise. Bright colors and tropical touches make you forget all about winter and work.
Letís take a tour of your new favorite place.
Enter our cabin and feel the adventure begin. After passing a full size bathroom, it is o
n to the main room featuring a fully equipped kitchen and living room. The living room has all of the basics covered for a quiet evening at home. A full size sofa, chair and ottoman are great places to relax and watch our flat screen TV with Dish satellite and DVD player. Our nook with bunk beds allows room for your castaways, or a chance to relive your childhood.
The fun really starts when you step down into our Island lounge. Mix up a drink at the Tiki bar, shoot a friendly game of pool, and then head out the French doors to the screened- in porch where you will find our large 6-person therapy spa waiting for your enjoyment.
Step out onto the covered porch and breathe in the fresh air while you rock in our Adirondack chairs, or walk down to the pond area and do some stargazing. You can almost hear the ocean waves!
After a long day of exploring, you may want to head upstairs and let the stress melt away in our 4-person sauna with CD player. Donít forget to bring your favorite beach music or listen to one of our selections. Picture the swaying of the palm trees as you work up a sweat in the healing heat! Time to rinse off and relax some more in the 2-person whirlpool tub in the master bath.
Fall
into our queen size bed, relaxed, refreshed and ready to spend another wonderful day with your loved one.
In the morning, enjoy a cup of coffee on your private balcony and get the day off to the right start. Arenít you wondering why you donít do this more often?